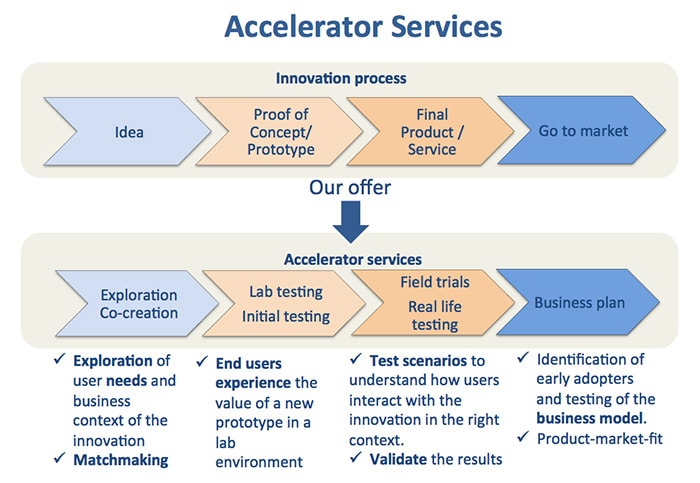 The second call for projects of the SEAS 2 Grow Accelerator is opened until the 28 th August 2017 !
An unique opportunity to experiment your innovative products in Silver Economy with panels of seniors from 4 different countries: France, Belgium, England, Netherlands.
Would you like to have your product / service tested along the entire innovation journey in France, England, Belgium and the Netherlands ?
Join SEAS 2 Grow Accelerator : SEAS 2 Grow will help you to develop the right product and target the most appropriate market and consumers.
Eligibility criteria to apply:
– You are a company located in the 2 Seas area (click here to check the area)
– You are developing an innovative product or service to improve daily life conditions of citizens more than 60
– Your innovative idea is technically and commercially feasible
– You have an interest to develop and commercialize your product at an european level
What you can win from this call for projects:
– To experiment your products with panels of seniors to evaluate their responsiveness
– To enter more easily into other european markets thanks to first users' involvement
– To define relevant business models according to each country's specificities thanks to business models sessions
–  To access european partners to distribute and sell your products abroad
Timing:
– 28 August 2017: Deadline to apply (21st July In France)
– August – September 2017: Application review
– October 2017: Announcement of results (5 to 6 companies will be selected)
– November 2017: Companies enter the Accelerator
Click here to upload the registration form in order to apply
And send it before the 28th August at : contact@seas2grow.com
You need some help to fulfill your registration form ?
Feel free to contact us !
France : mroussel@clubstersante.com
England : pamela.Knight-Davidson@anglia.ac.uk
Belgium : vicky.vanderauwera@thomasmore.be
Netherlands : p.brils@smart-homes.nl